Wine Kits make for a great first step!
When I first had thoughts of making wine, the process seemed a bit daunting. With that said, I started with a kit! I have since replaced around 80% of everything my first kit had, but what a great start to the wonderful world of making wine. In this section, I will review the basics of a kit, from the cheap to the... well, not so cheap. Most wine kits will stick to one varietal, such as a Chardonnay or a Cabernet Sauvignon Keep in mind that this is simply an overview to stir the mind for further research. Additionally, one of the best resources on wine making supplies, that I have found, can be found here!


The Basic Kit:
Since cost is usually one of the top questions (at least one that my wife had!), we will start each section out with the approximate range. Your basic kit, depending on the quality of the grape, will range anywhere between $40 and $130. You will notice, from the picture on the right, that most of these kits are comprised of the basic items you will need.

Most kits will come with a grape juice, concentrate or extract of some sort, but some do not. Make sure you check. Some kits will come with all of the hardware, and then you choose, and separately pay for, the type of grape-wine that you want to make.

What is usually not included are items such as... bottles and sometimes corks! Personally, I keep all of the used bottles after enjoying a wine, and then I soak the labels off and I reuse them (with new corks, of course). It is not so much that bottles are expensive, it is more along the lines that it is simply easier to collect and store bottles than to make the effort of going and getting new ones.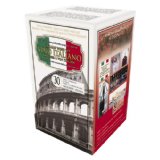 The lower level kits are what they call '4 week wine kit' that come in a box (like box wine). They usually run just under fifty bucks and the wine, well it is usually somewhere around the 'two buck chuck' category. The picture on the right is one such example. Directions for these wines go something like this: Step 1: Preparation and Fermentation. Step 2: Clearing. Step 3: Bottling and Bottle decoration. Yup, you guessed it, the box becomes your carboy with the whole process. This is also a 'one and done' process where almost nothing is reused. Personally, I feel that if you are going to go through the effort of making wine, it is worth the few extra bucks to produce something that you are actually proud of (not that some might be proud of their home made box wine); offering no offence to anyone!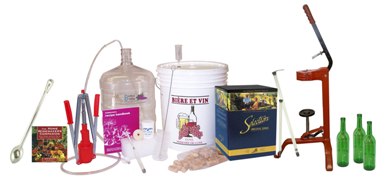 Higher End Kits:
For those who want a truly turn-key package, a higher end kit might be more in line. These higher end kits will run between $140 to $300. They usually include all of the items that one would need, along with many 'nice to haves'. Upgrades include items such as a glass carboy (verses plastic or a bucket), a metal stir spoon, a floor corker (verses a hand held), bottles, corks, a nice hydrometer and better grape juice. These extra items can make your winemaking experience go much smoother. Additionally, they keep you from having to go out and get items that you might end up wanting anyway (spend it now, or spend it later!).


Wine Varietal Juice Kits:
Once you have your kit, and have brewed your first batch, you may then want to move onto a higher quality grape. These wine varietal juice kits run anywhere from $30 to $400, with an average of $120 for a pretty good grape. Remember, your wine will only be as good as you can bring your grape to be its best. The better the grape, the more potential it has. These packaged grape juice containers usually will yield 6 gallons of finished wine, or approximately 30 bottles.



Here is an example of a box of 'Rojo Intenso' red wine that retails for $204 (which ends up still being a good deal when you consider the fact that you end up with two and a half cases of very good wine), and their description of how the wine should end up like... "This is a Mosti Mondiale Proprietary Blend of Cabernet Sauvignon and Shiraz. Dark ruby in color, this wine has an intense nose of ripe berries (raspberries, black currant etc.), which intertwine perfectly with the smoky oak nose. To the palate it reveals a chunky fruit character with hints of ripe plums. Perfectly balanced alcohol, acidity and body make for a "heady" wine in more ways than one."